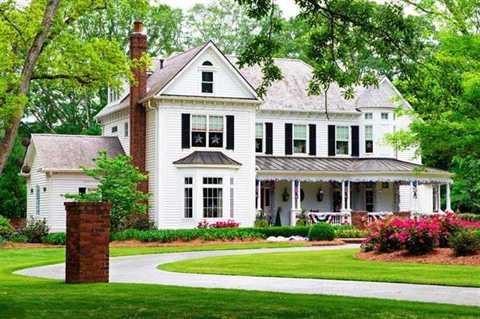 If you are considering selling your home, you may want to revamp the exterior – first impressions are important, after all. You want your home to leave a good impression on passersby, and the best way to do that is by improving its curb appeal. Curb appeal describes the attractiveness of your property as viewed from the street. To entice prospective buyers, use these 10 easy methods to immediately improve the exterior of your home:
Add greenery.

Nothing says fresh like a new garden bed or an array of leafy plants. To revitalize your front lawn, plant some flowers and herbs to give your house a more natural, picturesque appeal.
Aerate your lawn. The winter months can wreak havoc on the quality of your yard. Buyers won't be impressed by a patchy, brown lawn. Lawn aeration is an affordable way to instantly boost the health of your lawn and attain that luscious, green grass you've always dreamed of. Cleanr offers lawn care in Winnipeg

. To improve the look of your lawn, hire our professional gardeners – we guarantee that you'll love the results. From lawn aeration to weed control, we offer a variety of services that will instantly boost your home's curb appeal.
Change your front door.

A new coat of paint turns any old door into an eye-catching attraction. You can opt for a designer colour such as yellow or red, or keep it classic with white or brown – it all depends on the colours of your home and your taste.
Buy a new mailbox.

Is it time to replace that dingy, worn-down mailbox? Upgrade to a new one that is sleek and modern to impress potential homebuyers.
Purchase new house numbers.

Ordinary house numbers are forgettable, but stylistic ones will draw artistic eyes to your door. Refresh the exterior of your home by buying new house numbers that will leave a lasting impression.
Create a clear pathway.

A confusing and overgrown pathway will steer buyers away from your property. Instead, create a clear-cut path that makes it easy to enter your home. It will immediately neaten the appearance of your yard and home.
Add an outdoor seating area.

Why not make your house more approachable by adding an outdoor table and chairs? It will allow onlookers to envision themselves having fabulous gatherings in your front yard.
Use a pressure washer.

A high-pressure wash will strip away the built-up dirt and grime from your home's exterior.

Caution is advised

– if you accidentally spray the windows or doors, you may cause damage!
Repaint your house.

For a dramatic change, consider repainting the outside of your house. It's no easy task, but it will increase the curb appeal of your house tenfold. 
Add porch lights.

A well-lit lawn will look enchanting at nighttime. To entice passersby, add outdoor lights to your driveway, front door, and porch. The result will be a house that looks safe, cozy, and approachable.
This summer, use these methods to freshen up the exterior of your home. Whether you are looking to sell your property or just to modernize it, boosting the curb appeal of your property will make it look fresh and well-maintained.