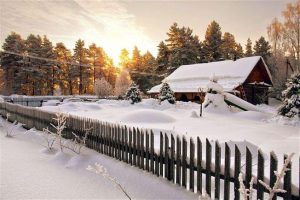 Winter leaves the days dark, and your once-vibrant yard starts sinking under the weight of snow. Adding life and colour to your outdoor space during winter takes some effort, but is very well worth it. Talking of adding life to exterior space, there are several features that you can incorporate to ensure that your space remains green, warm, and inviting.
Add Heat 
As winter brings a chill to the air, outdoor fireplaces can make an excellent source of heat. And as they add a warm glow to the exterior space, professionally designed fireplaces can increase the curb appeal of your yard landscaping. If your budget is really tight, fire pits are a more cost-effective alternative that also provides a source of heat in cold weather. Either of these installations increases a home's value.
Use Vibrant Colours
Counter the dark and gloom of winter by adorning the exterior spaces with warm colours and textures. Take, for instance, the patio. Begin by having it sheltered with a transparent partitioning to keep the snow out. Then bring in the colours. Make them bright and striking. Go for bold prints for your cushion covers.
Try out some yard art using bright paints. This you will have to do in advance, before winter sets in. Get some colourful pots for your potted plants. Hang garden ornaments strategically around the yard. The brighter, the better. In fact, your outdoors will be visually bright, even with the surrounding gloom.
Add Lighting
Winter makes the days darker and shorter but you can create your own light by illuminating the landscape. You can have string lights hung on trees and shrubs, and lights in clear glass lanterns suspended from stands. Better still, there's something unique about vintage lighting that screams out style. At the end of the day, that sparkle adds an enchanting look to your yard.
Clear Snow
Clearing snow can seem like a full-time job during winter. Yet piles of snow can drown all the above efforts and bring back the gloom. If the constant shoveling proves too tedious, talk to our snow removal professionals who have years of dealing with residential snow removal in Winnipeg. 
Contracting snow removal services will see your yard cleared of snow quickly and efficiently. Here's a tip to make the job easier, whether you do it yourself or outsource it: plant tall poles around sidewalks, driveways, and walkways. This will come in handy when you're dealing with 10 inches of snow, especially when those doing the job are not familiar with your yard. They will help you know the areas to give priority to when removing snow.
Whatever you intend to do, ensure that your yard does not lose its zest in winter, so prepare in advance. Except for clearing the snow, the above steps need to be taken before the snow flies. By the time the gloom sets in, your yard will be a cocoon of colour even in the throes of winter.