Will Cleanr Mow Trim Grass In Rock Beds?
---
In short, NO. We will not trim any grass, weeds, or growth in or around rock beds or rock gardens.
Cleanr Mow will not trim any growth within rock beds during our weekly lawn maintenace visits for one simple reason – safety. A trimmer head turning at a fast speed can easily pick up a rock from a rock bed and launch at a dangerous clip up to 30 feet. This turns your average rock bed into a bed full of dangerous and painful projectiles. We at Cleanr Mow know from experience how painful this can be! These shooting rocks can also break windows, damage vehicles, hurt passerbys, and a number of other painful and destructive things may occur. For this reason, we will not trim any growth within or around rock beds.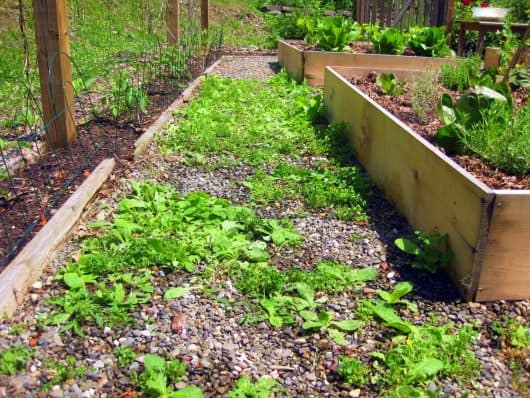 Here is an example of weeds growing in a rock garden.
BUT there is an alternative – you can always spray your rock beds/gardens with a growth regulator or a kill all chemical. These chemicals can be found at your regular hardware stores such as Home Depot, Rona, Canadian Tire, etc. Just make sure you avoid spraying on or near any grass, plants, or small shrubs that you intend to keep as the kill all can spread further than your intended target.
Currently at this time, we do not offer a herbicide program for weed removal, but we are always more than happy to refer you to another company for herbicide and pesticides. We have a close working relationship with several other lawn care companies in the city that are able to tackle this service for you, and are more than willing to give you a referral. Just call us and ask!
Hopefully this gave you a better understanding of what we do and do not offer within our weekly lawn maintenance program. If you are not currently a Cleanr Mow customer and would like to sign up for any of our services, you can easily do so by booking online here!