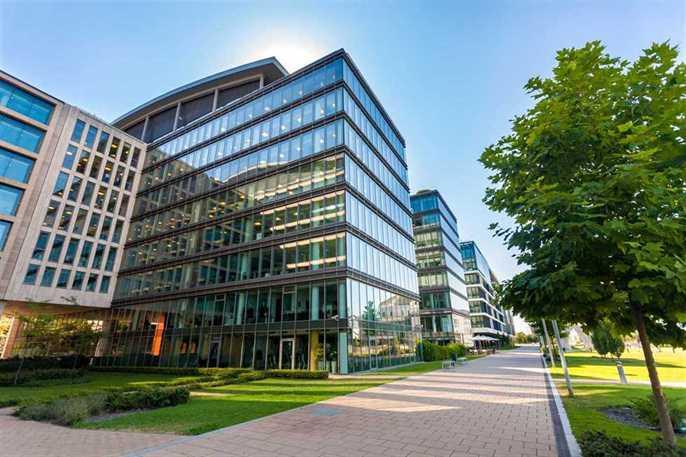 Have you ever visited a business with a poorly maintained lawn? Chances are, you didn't think very highly of it. A commercial property that's well-maintained will show clients that you take your work seriously. On the other hand, one that's fallen into disarray, with overgrown grass and a walkway obstructed by weeds, will send clients in the direction of your competitor. Keep your corporate location well-maintained, and your company will reap the benefits. 
1. It forms a good reputation for your business. Impress both new and returning clients by having a lawn that's clean, watered, and manicured. By hiring a professional service, you'll ensure that your property has vibrant grass and well-trimmed hedges. It shows passersby that your business pays attention to detail. Clients will assume that if you take impeccable care of your property, you'll apply the same attitude toward your work. When people drive by your company's property and notice your healthy green grass, they'll be intrigued about what your business has to offer. 
2. Your building's exterior is the first thing that clients and employees see. We all know that first impressions are important – but this saying is especially true when it comes to business. The appearance of your property's exterior reflects the quality of work that your company does. If you're not committed to maintaining it, clients will get the impression that you neglect other aspects of your business, too. For employees, working in an office with an overgrown lawn can be discouraging. They won't feel motivated when they know that their boss doesn't take the time to maintain the job site.
3. It will save you time. Did you know that the average person spends between 7 and 47 days of their life mowing the lawn? As a business owner, there are far better uses of your time than cutting the grass. It's a waste of your resources, and ultimately, it results in lost profits. Instead, hire a professional lawn care service to take care of this task for you. You'll be able to concentrate on your business and not have to worry about whether your grass is overgrown. Save yourself valuable time and energy by hiring commercial lawn care services.
4. You won't have to purchase any equipment. Lawn mowers, weed wackers, and trash grabbers – the cost of these tools adds up. It's an expense you won't have to worry about when you hire a professional lawn care service. They'll arrive on-site with their own supplies, so you can forget about footing the bill for maintenance and equipment.  
5. A professional maintenance crew has the experience and expertise to make your lawn immaculate. Even if you cut your grass, you may not know all the ins-and-outs of lawn care; by hiring a professional maintenance service, you can trust that your lawn will be in good hands. Cleanr Property Maintenance offers commercial lawn care services in Winnipeg. Our insured and qualified staff will mow your lawn, trim your hedges, and remove any debris from your property. In the wintertime, we offer snow removal services. We pride ourselves on delivering consistent and reliable results. With our services, your property will have a lawn that looks professional and impressive to employees and clients alike.