How Do We Handle A Storm SO BIG That It Only Happens Once Every 11 Years?
Do You Worry Your Snow Guy Won't Show Up During A Storm? – Let Us Show You EXACTLY How We Handle A Storm!
Last week (the week of December 5th, 2016) we endured a once in eleven years sized storm. With nearly 10" of fresh snowfall and 60km/h winds for most of the storm, we saw snow drifts get as large as four feet high! You may be thinking to yourself, how exactly does Cleanr Snow handle a storm like that? Keep on reading for a play-by-play of exactly how we handled that storm with ease!
On Sunday, December 4th 2016, we began preperations for the storm. That day we saw 0.75" of fresh snowfall. As you know, our trigger depth (the depth we clear properties at) is 1", so Sunday we did not techincally have to clear. BUT WE DID ANYWAYS. This was to give the newer equipment operators more preperation and familiarity with the equipment as well as the homes they would be servicing. We went out with more staff than necessary just to make sure everyone would be prepared for the major snow coming that Tuesday. On Sunday, we began clearing at 12:08PM and finished our route in 5 hours and 39 minutes at 5:47PM. This is generally longer than we would take on a 0.75" snow fall, but we wanted to make sure that everyone was properly trained on all properties, so there would be no hiccups throughout the storm.
On Monday, December 5th 2016, I looked out of my truck on my way back from doing checkups on all the equipment and thought to myself "this is the last time we'll see grass until the Spring". And boy, was I right!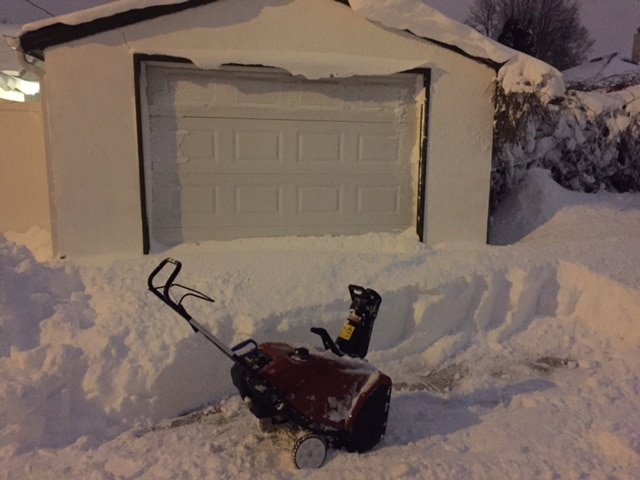 A back lane garage approach that had snow drifts nearly two feet tall.
On Tuesday, December 6th 2016, the storm began. We saw about 6" of fresh snowfall Tuesday, starting at about midnight Tuesday morning. This coupled with 60km/h winds resulted in drifts up to four feet tall at many properties! Looking at the forecast, the snow and wind was set to keep coming, and coming hard, for the next 24 hours, so we enacted the snow storm policy:
"6. Snow Storm Policy: When snowfalls of more than 15.24cm (6") are forecast, a "quick service" will be done. A quick service of DRIVEWAYS AND ONE WALKWAY TO DOOR will be done while snow is still falling in an attempt to allow customers to still pass through their driveway. Once the snowfall ceases, full service of driveway and steps/walkway will be done."Cleanr Snow Service Agreement
With this in mind, we sent out our notification email letting all of our clients know this and then began clearing at 11:19AM. At 2:06PM, after making sure that the guys were doing a great job, we split into two trucks to conquer at a better pace. We had two crew members in one truck and three crew members in the other truck. We continued on clearing all properties until 6:52PM when we finished the very last property on the list. This meant that we cleared all properties in 7 hours and 33 minutes. Not too shabby considering we had to contend with four foot drifts on multiple properties that took over 25 minutes to tackle with three people!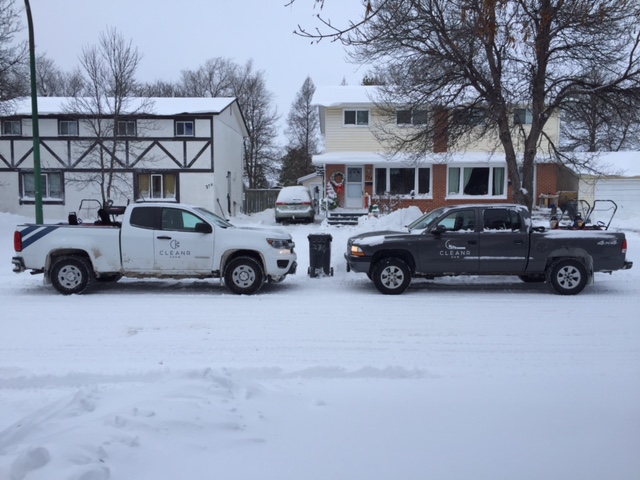 Both trucks loaded up and ready to go Wednesday morning.
On Wednesday, December 7th 2016, we did it all over again. Another 3-4" of fresh snowfall had accumulated, but due to the 60km/h winds, it seemed as if we hadn't even cleared the day before. We were once again contending with drifts that averaged a foot or two tall on every property, with the odd property having massive four foot drifts. We lifted the snow storm policy and began clearing all walkways and entrances to homes. We started two trucks at the same time on this day and had two crew members in each truck. We began clearing at 10:12AM and ended up finishing at 7:30PM. This means that we cleared all properties in 9 hours and 13 minutes. That included all walkways and entrance ways to the home and garage. Wednesday was a longer day as the main walks that were cleared on Tuesday were about the same depth as Tuesday, but the second entrance ways added a significant amount of time.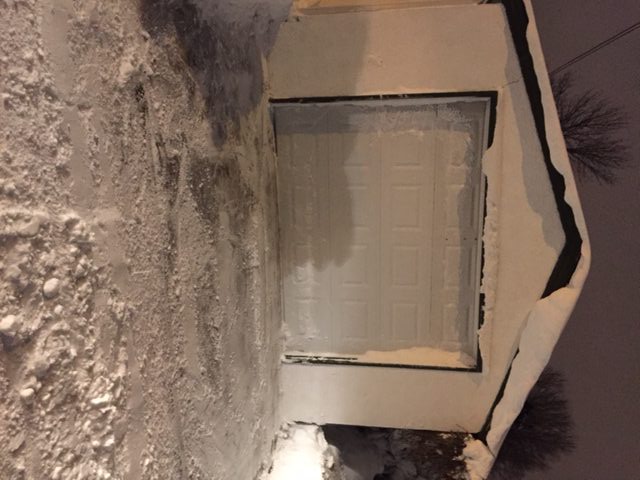 After clearing the property Tuesday evening.
On Thursday, December 8th 2016, we went out to touch up all properties even though no fresh snowfall had occurred. We went out as a three man crew in one truck and tackled homes all day. A combination of being tired from the previous two days and having to make sure everything was edge to edge led to a surprisingly long day. We began clearing at 10:48AM and ended clearing at 6:50PM. This was an 8 hour and 2 minute day that made sure all properties were cleared edge to edge and were presentable.
A plow had made a pile behind a customers gate. Yes, we had to dig it out!
Maintaining a schedule like this during a storm does not happen by luck or by chance, but rather by hours upon hours of planning, training, and dedication to providing a high level of service for all of our customers. After the storm had subsided and everyone was taken care of, I had the opportunity to speak with quite a few other snow removal company owners within Winnipeg, and what I heard shocked and appalled me. Many residential focused companies did not visit any of their clients at all on Tuesday and only went one time in total and that was Wednesday. I heard that there were companies that did not begin clearing until Friday, meaning that their clients could not leave their homes for four days. I take a great deal of pride in knowing that we provided a level of service that is completely unmatched by any other company in Winnipeg and I look forward to only improving our systems and the way we tackle major storms.
If you are not yet a Cleanr Snow client, or if your snow removal guy left you stranded during a recent storm – give us a call at (204) 960-0246 or easily book online and you will rest easy knowing you are in great hands!
Thanks,
Kristian Zoppa
OWNER – CLEANR SNOW