Amazing Service Backed By Our 200% Guarantee!
---
And more! –Whatever your needs are,
Cleanr Property Maintenance of Winnipeg has you covered.
Our Guarantee
A PERSONAL, IRON CLAD, RISK FREE, 200% GUARANTEE!
If you are not 100% satisfied with your Winnipeg lawn care services, we'll come out again and do it over, free of charge. If we still can't make it right, we'll pay a competitor out of our pocket, to come out and do it again for you. That is how confident we are here at Cleanr Property Maintenance that we'll be able to impress you every time!
-Residential Lawn Care
-Spring Clean Ups
-Commercial Lawn Care
-Lawn Aeration
-Power Raking
-Insect Control
-Weed Control
-Fall Clean Ups 
Fill In Your Information Below For A No-Obligation Estimate!
For the past 5 years, Cleanr Property Maintenance has been providing lawn services, grass cutting and property maintenance services for hundreds of happy property owners in Winnipeg. Our diverse portfolio includes hundreds of residential customers that receive weekly mowing services as well as various property management companies, small businesses, condo corporations, and housing co-op's. We are able to accommodate any size property, from small residential all the way up to large commercial acreages. With industry leading equipment and truck set ups, we are able to provide efficient and high quality service, no matter the size of property, as we always aim to be a cut above the rest.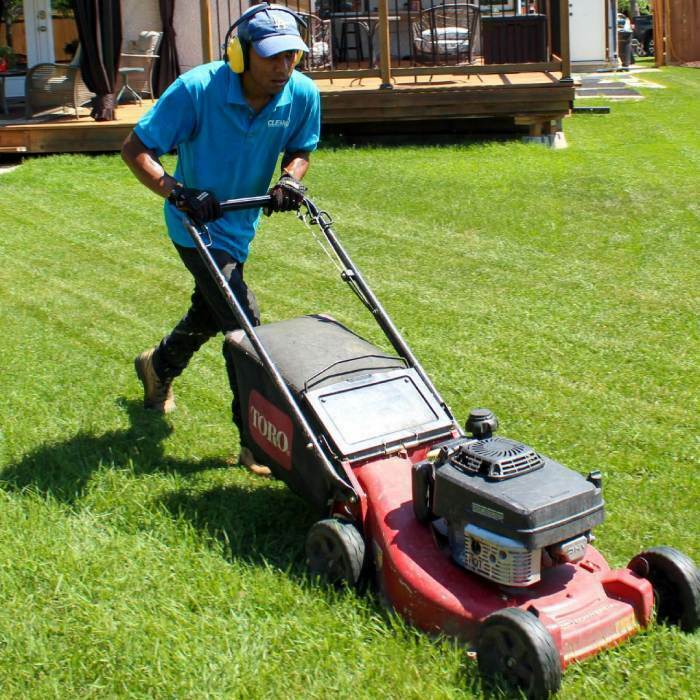 Some Of The Best Lawn Maintenance Winnipeg Offers
Weekly grass cutting is one of our most popular services as we provide cuts for hundreds of customers every single week. Our staff go through a full day of paid training at our shop learning the ins and outs of every piece of equipment before they even step foot on your property. After their full day of equipment training, they are given one week of on site training, where they shadow an experienced lawn care technician. This is all done to ensure that every staff member is fully trained and ready to provide you the absolute best service possible! Our packages generally start from the start of May until the end of September and visits are performed on a weekly basis. This ensures a green and healthy lawn that is always in top notch shape!
For More Information About Residential Lawn Services:
Click Here!
For More Information About Commercial Lawn Services:
Click Here!
100+ Five Star Reviews!
With over 100 five-star reviews between Google and Facebook, we aim to always impress and satisfy our Winnipeg customers. Your happiness is our goal. Check out these real, recent reviews from satisfied customers below!
Leave a Review
---
I would absolutely recommend Cleanr Property Maintenance. They took care of all my yard care needs including landscaping to trimming tree branches. This is the first company I have to say that, from the Administration Staff to the Yard Crew are so so pleasant and curtious to your every need. Thank you! - Jan 2020

Christine C.
Great Team! My lawn was in good hands. I will definitely use them for next season. - Sep 2019

Ieman Z.
Very happy with the quality of work done, from building structures to installing edging to lawn cleaning and care. Owner Kristian is polite, respectful, prompt, knowledgeable, and understands how important my gardens and yard are to me. 🙂 - Dec 2019

Shannon C.
---
The weed and fertilizer was great will be getting it done next year and grass service was great. - Dec 2019

Brad O.
---
Cleanr has done an excellent job on the snow removal and landscaping the past year and a half at our condo property. Kristian's team is dependable and hard working. If not completely satisfied they come back and redo the job. - Jan 2020

Carrie S.
---
Great price. Highly recommended. Price is very reasonable. Prompt response. - Dec 2019

Olga O.