Don't Want To Deal With Leaves?
Fall in Winnipeg can be incredibly beautiful; gold and red leaves cascading all around you, the sun still warm enough to heat your skin in the day, while cool dew forms on your grass in the evening. It's the season of harvest for many gardeners, the season when we prepare to hunker down for winter. The beauty of fall is undeniable, but what's not so beautiful is the amount of work it can take to get your property ready for the coldest months; that's why here at Cleanr Property Maintenance, we offer fall clean ups Winnipeg can rely on.
We're Winnipeggers ourselves, after all, so we appreciate how tough getting ready for winter can be; don't strain yourself taking care of all of those leaves, and let the professionals clean up for you!
---
Watch the video above to hear more about our Winnipeg Fall Clean Ups!
Book Your Winnipeg Fall Clean Up Estimate Now To Avoid Missing Out!
---
Book Now
The Benefits of A Fall Clean Up
A fall clean up in Winnipeg is essential to the overall health of your lawn as it helps to prepare the lawn for the long and cold winter months that are sure to follow. A fall clean up helps to prevent winter mold and allows for a quick sprout up in the spring. These clean ups are an in depth job, so we offer a comprehensive service in order to ensure your home is ready for winter.
---
What Does a Fall Clean Up Include?
---
We'll also blow out all of your garden beds, as well as driveways and sidewalks, to get every last leaf.
---
The season can be quite windy, so garbage and debris might end up on your property; we'll take care of all of that too. Getting rid of all this dead material means you won't have to worry about mold on your lawn come spring.
The first step is getting rid of all of those leaves; they were beautiful when they fell, but on your property they make quite a mess. We'll take care of them, raking up every last one and bagging them all appropriately so the city can take them away.
---
Once all of that clutter is cleaned up, we'll give your lawn it's last mow of the season. There's a lot of science that goes into proper lawn maintenance, and a part of this science is knowing the optimal cut for the "dormant season", the winter months where the lawn isn't growing. This involves cutting the lawn pretty short, but not too short; a properly cut lawn will go dormant during the winter and be ready to grow healthy, lush and green again in the spring.
---
That means that your Fall Clean Up will include raking, blowing and bagging all the leaves and debris, putting them curbside for the city to pick up, and mowing your lawn to the perfect height.
For this service, give us a call for an estimate at (204)960-0246; the amount of tree cover and the size of your yard are the two biggest factors in the overall cost. At Cleanr Property Maintenance, we believe a job well done is the only kind worth doing, and we understand that everyone has different lawn care needs. In light of that, we offer a couple of interesting supplementary services that you can add on to your Fall Clean Up, in order to get the best possible value. We can cater to any sqft lawn or garden.
Other Fall Services Include…
The Benefits of Deep Core Aeration
The first of these supplementary services is lawn aeration, and with a Fall Clean Up, this starts at only $79. Your lawn undergoes a lot of wear and tear during the year, especially if you have children or animals running along it all year long. Those who host family gatherings in the backyard will experience even more wear and tear. All of this activity serves to compress the soil in your yard, making it difficult for water and nutrients to penetrate throughout your lawn. The winter is especially bad for compression, all that snow packing everything down.
Aeration is a process in which we use state of the art equipment to pull cores out of the ground, creating holes that allow water and nutrients to feed your lawn. This also allows your lawn to create stronger, deeper roots, making the grass extremely hardy right before the hard winter months. We strongly recommend aeration at least once a year, and fall is the perfect time!
Fall lawn aerations starting at only $79 when booked with a fall clean up!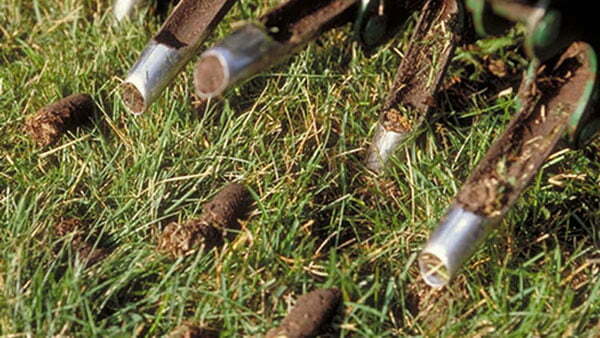 The Benefits of Top Dressing
The second supplementary service is something we're really excited about: top dressing. Top dressing is a thin layer of organic material that is applied to the top of your lawn, and it serves several purposes. The soil serves as nutrients for your lawn, similar to adding fertilizer.
The thin layer also smooths the surface of your lawn, reducing the number of bumps and divots and improving both the appearance and feel of your yard. We use a special mix of black soil, peat moss, compost and sand to achieve optimal results. This services starts for as little as $349 when paired with our Fall Clean Up.
Fall top dressing starting at only $349. Recommended to pair with an aeration!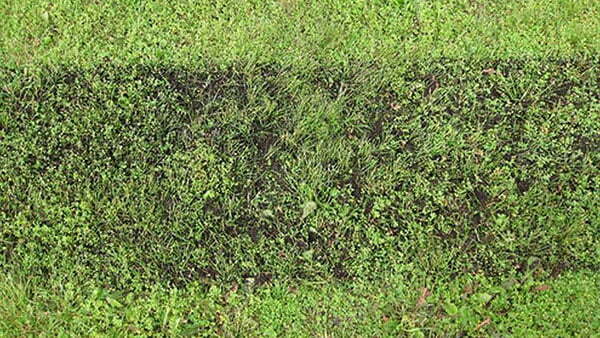 Book your fall clean up now!
Spots are limited and will fill up fast!
---
Book Now
---
You can get all of the services we offer for Fall Clean Up in one visit; the Basic Clean Up, Aeration and Top Dressing can all be included to ensure that your lawn will spring back to life once the winter is over.
This service is incredibly popular, and we only have a limited number of slots, so book now!