Book A Landscape Consultation Easily Online!
Select a date/time that works best for you from the calendar and an estimator will meet you at your home.
Winnipeg MB Landscaping Services
Looking at your yard, most people might see grass; to you, it's so much more. Your yard is a part of your home, a part of your property; it's where you spend time with your family, what you see everyday as you come home. It's a part of your sanctuary.
There's creative control that you have over your yard that you might not have over much else; you can shape your yard to reflect your passions, your interests, your sense of beauty.
We appreciate all the things your yard can be, and that's why Cleanr Property Maintenance and landscaping company is proud to offer Winnipeg landscaping services; bring your vision for your yard to life.
Specializing In Small Jobs, We Excel At What We Do!
At Cleanr Property Maintenance your experts at landscaping in Winnipeg, we specialize in small landscaping projects and landscape design. We service both residential and commercial clients. Having been in the industry for many years, we realized that it is easy to be a jack of all trades but a master of none. For that reason, we have decided to only do what we are the best at and to do the best job possible!
Our three main landscape services are sod removal and installation, rock/mulch bed installations, and flower bed installations.
If you are looking for something else like a paver patio, a deck install, or an entire property renovation, don't hesitate to get in touch with us because if we can't do it, we know a trusted landscape contractor in Winnipeg, MB who can!
Request a Free Estimate
Flower/Rock Bed Installation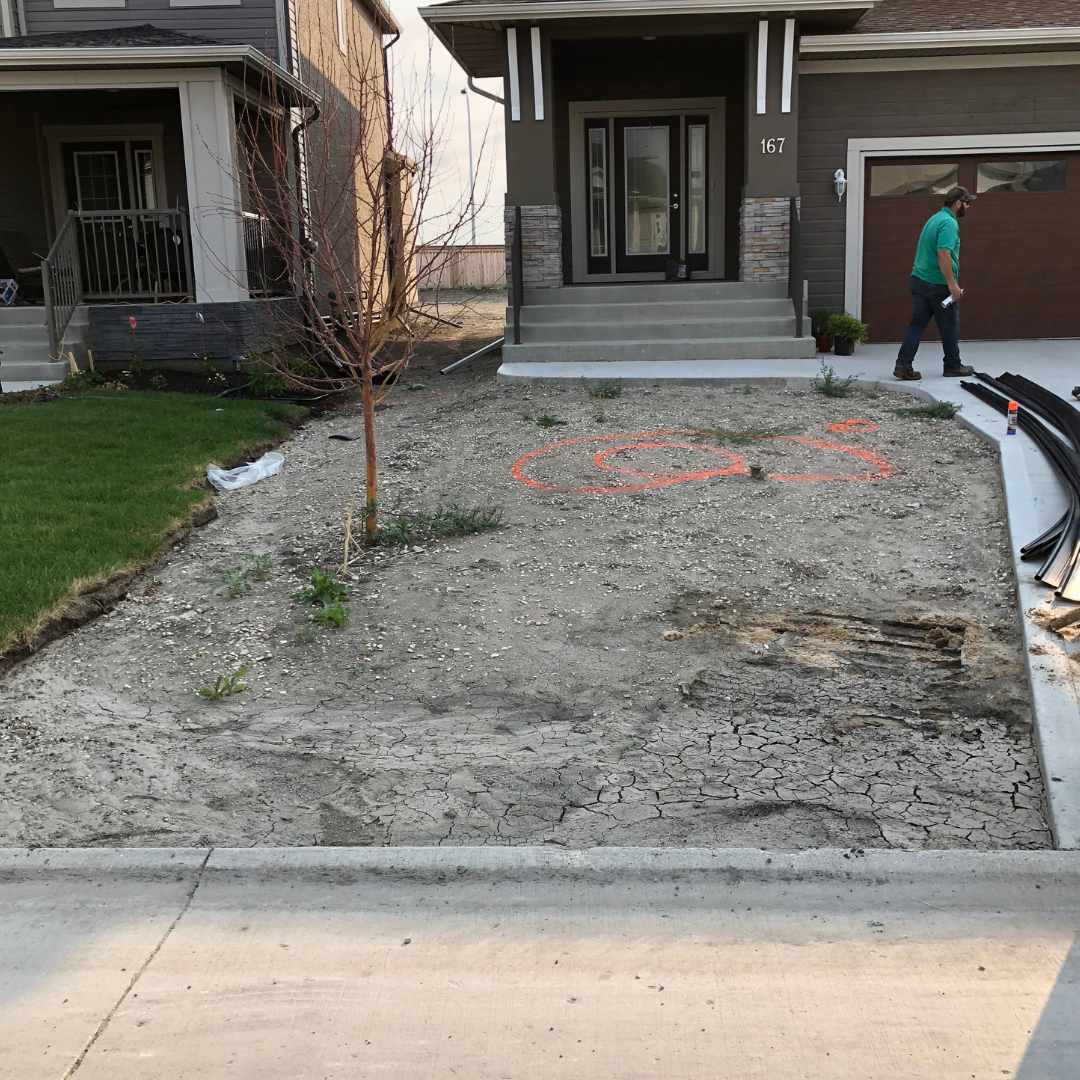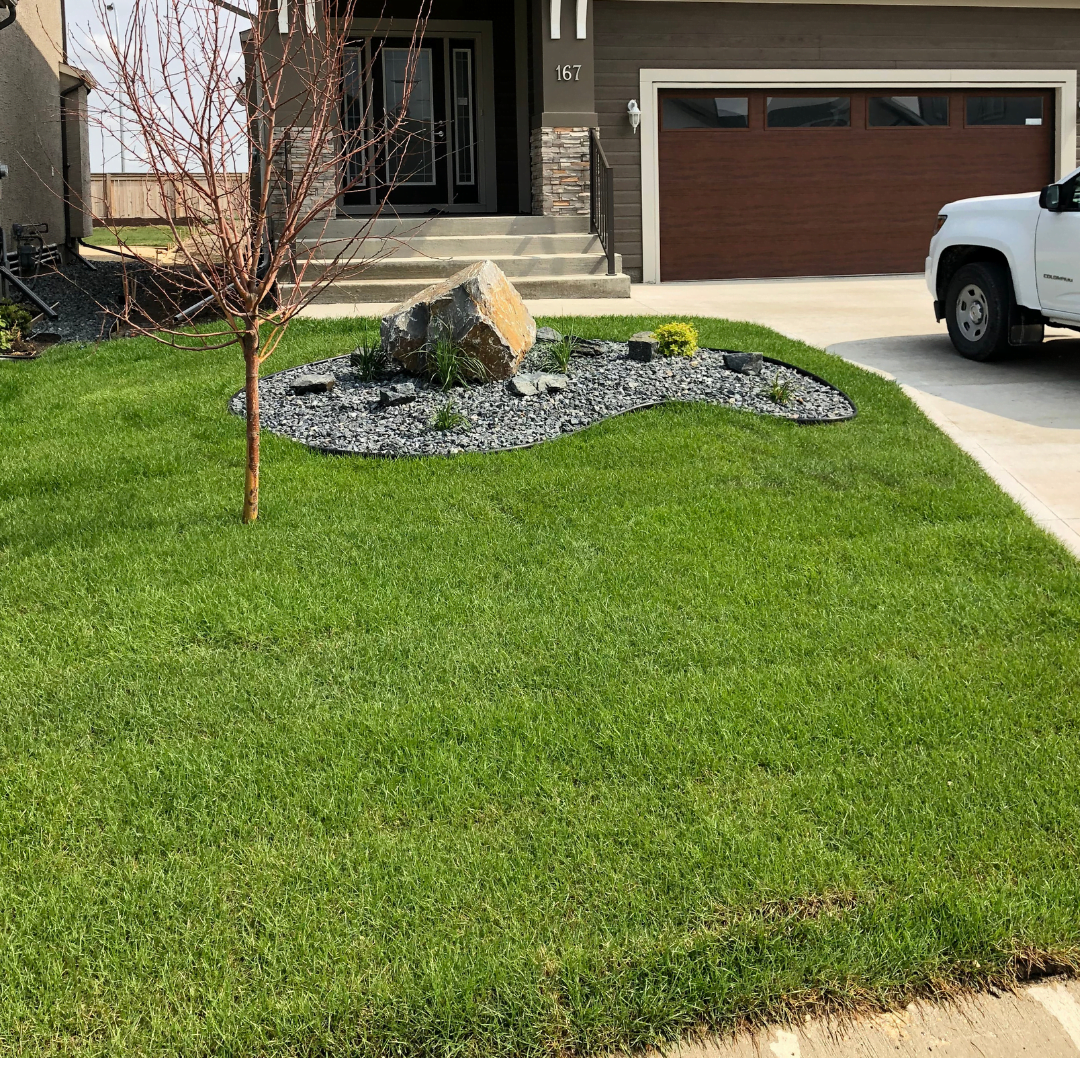 A black granite rock bed that encompasses a focal boulder, day lilies and ornamental grass. The sod install was performed as well. Before picture taken prior to install, after picture taken two weeks after install. This project took the crew one day.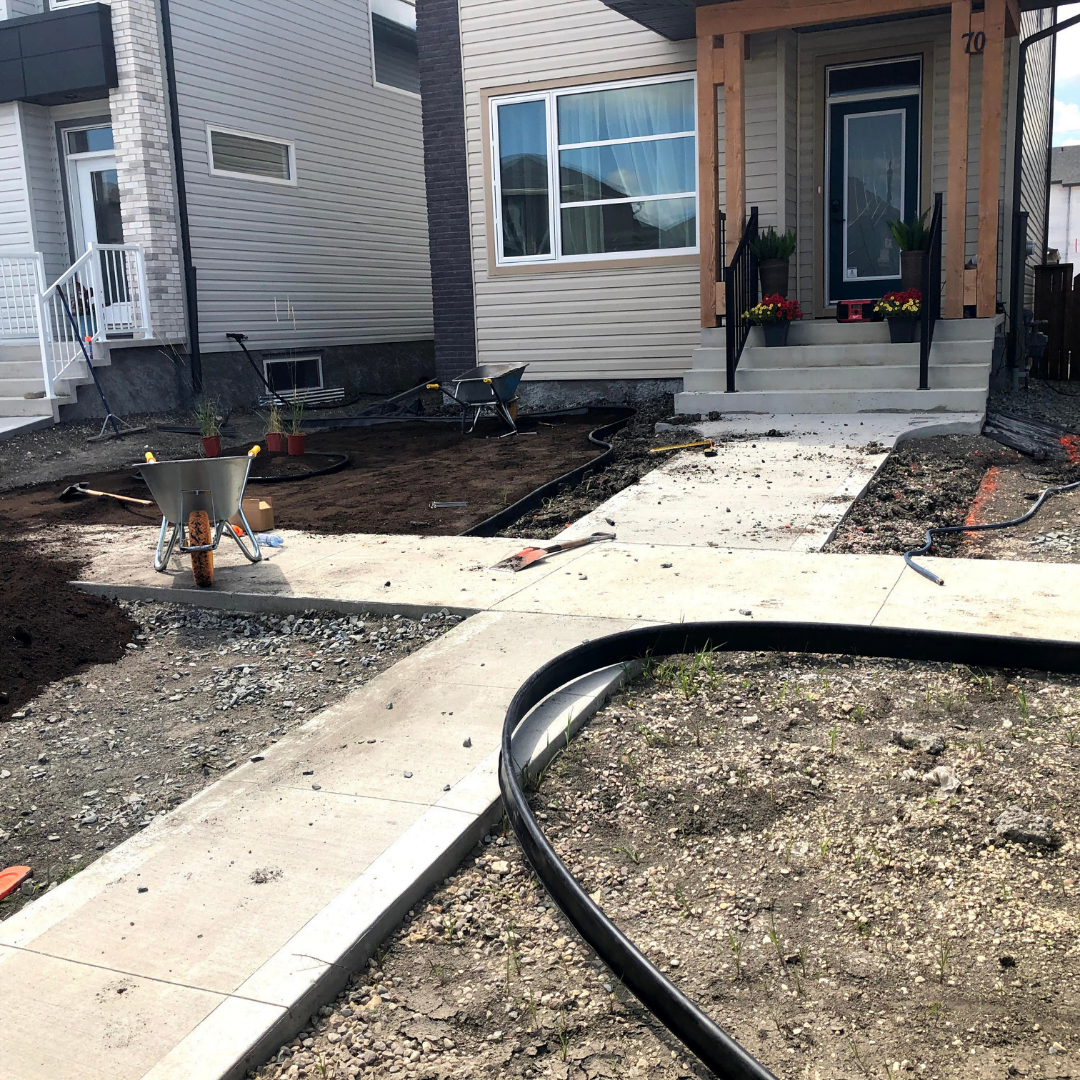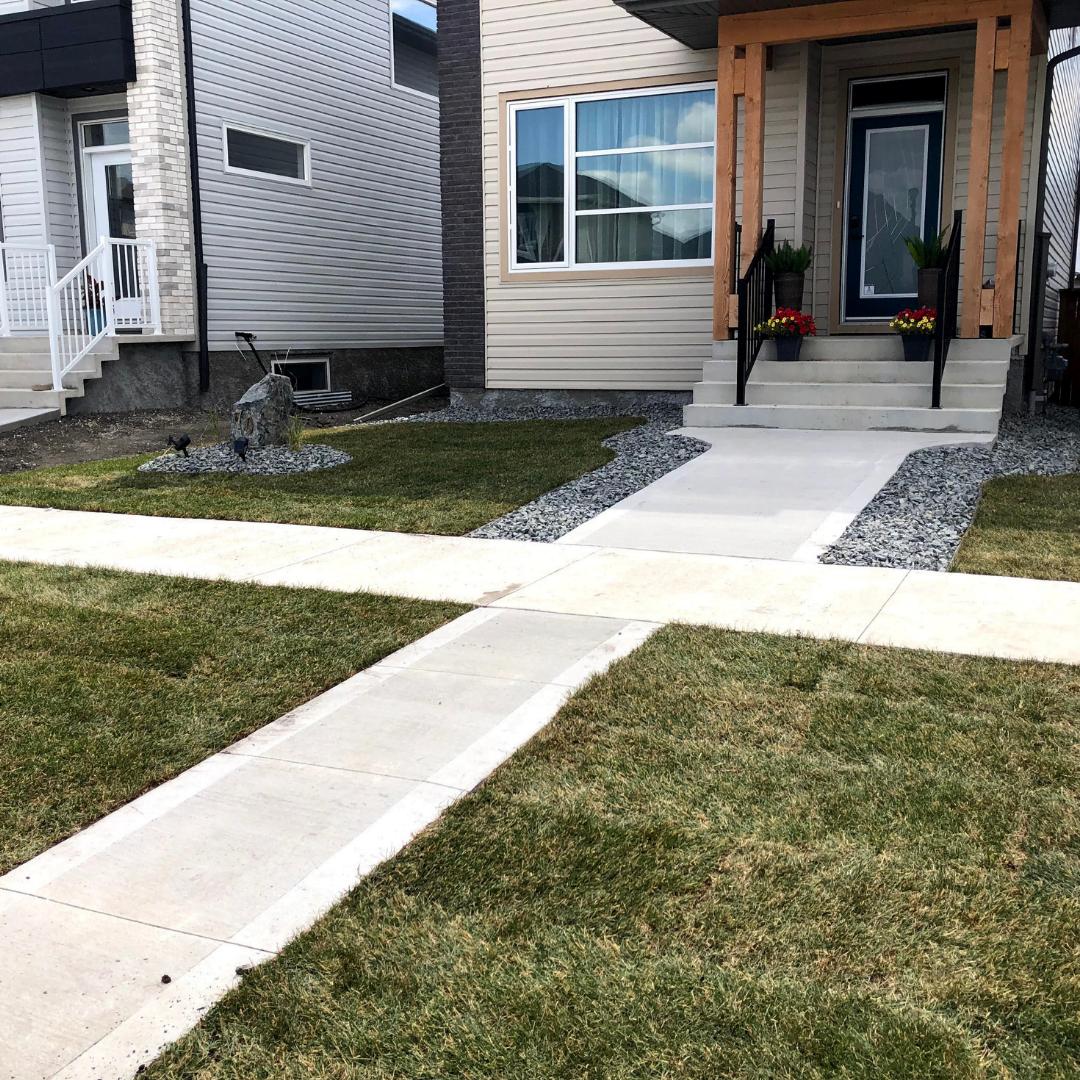 This landscape service features a full front yard makeover. A small black granite boulder was installed with the house number on it as well as feature lighting. Fresh sod was installed along with black granite accents along the entranceway, in front of the house, and alongside the house.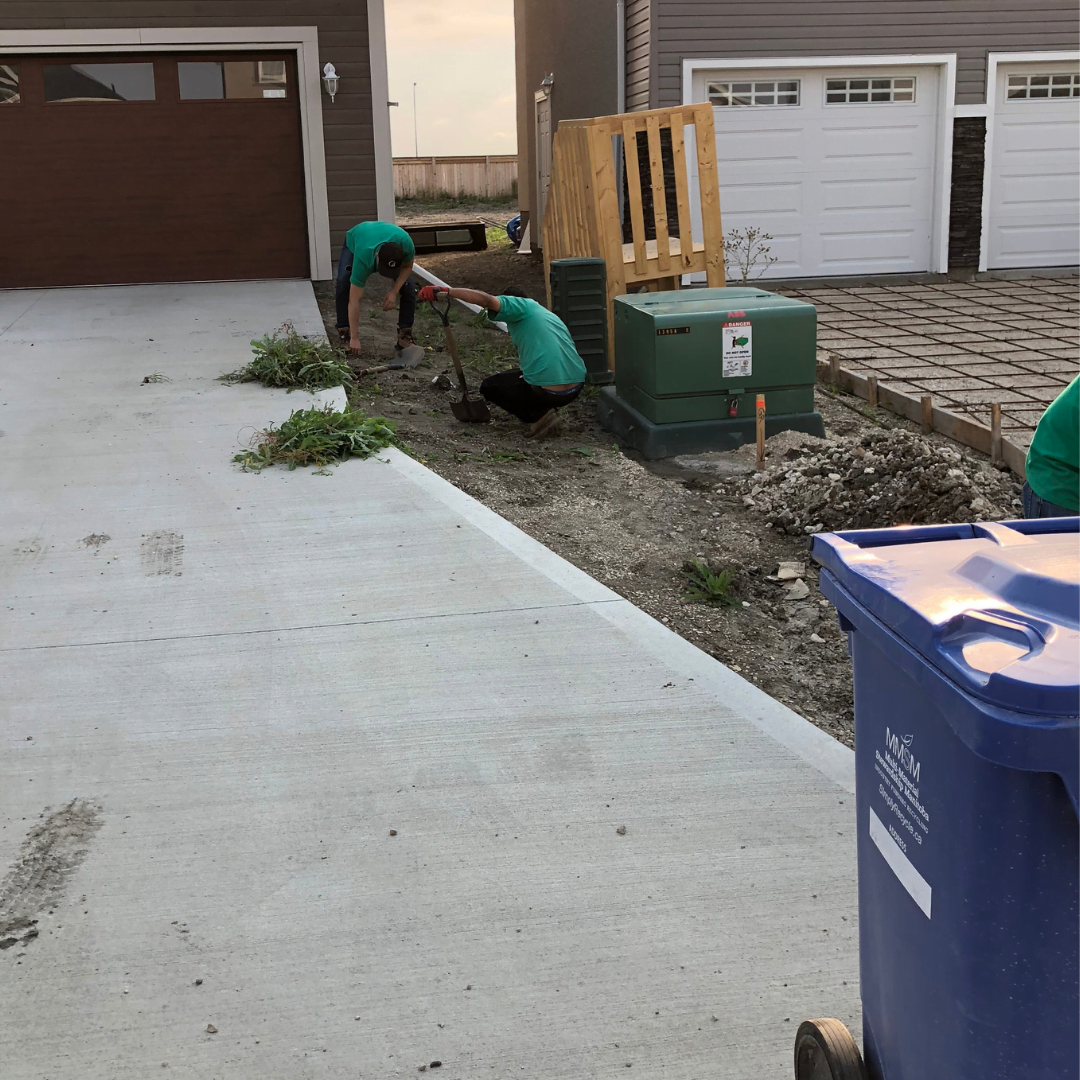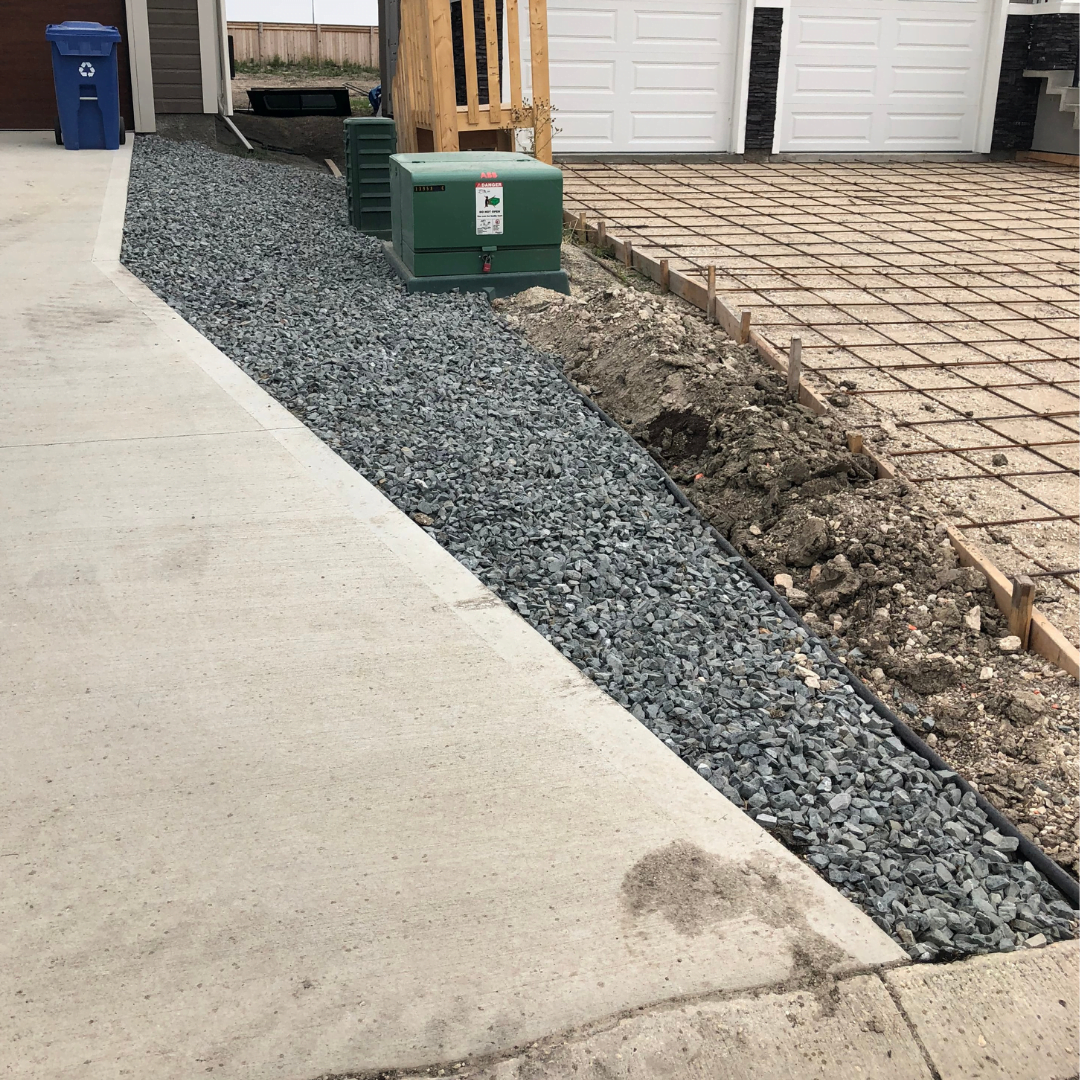 This simple rock bed was requested as this side of the customers driveway was turning into weeds. A few hours later, it was perfectly manicured!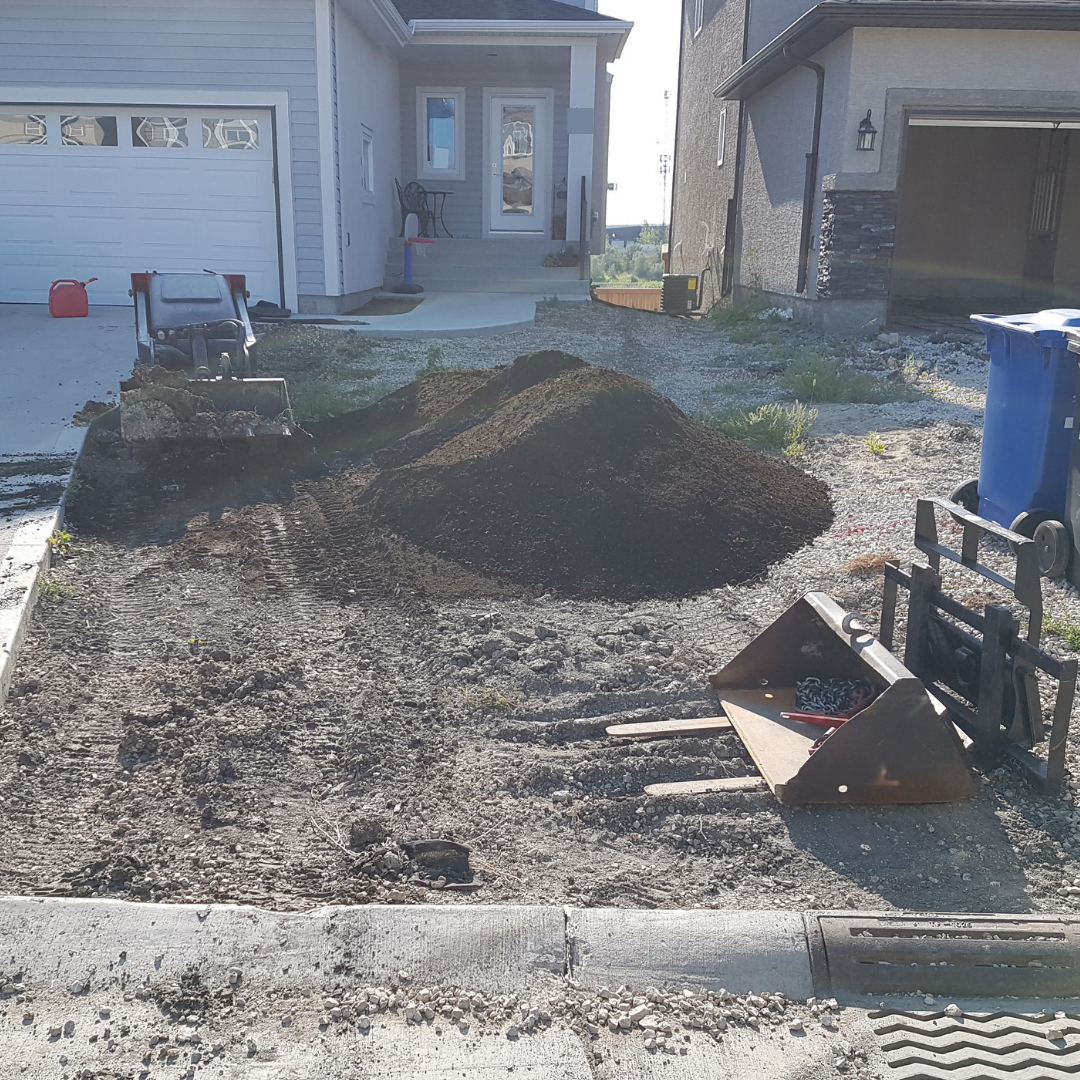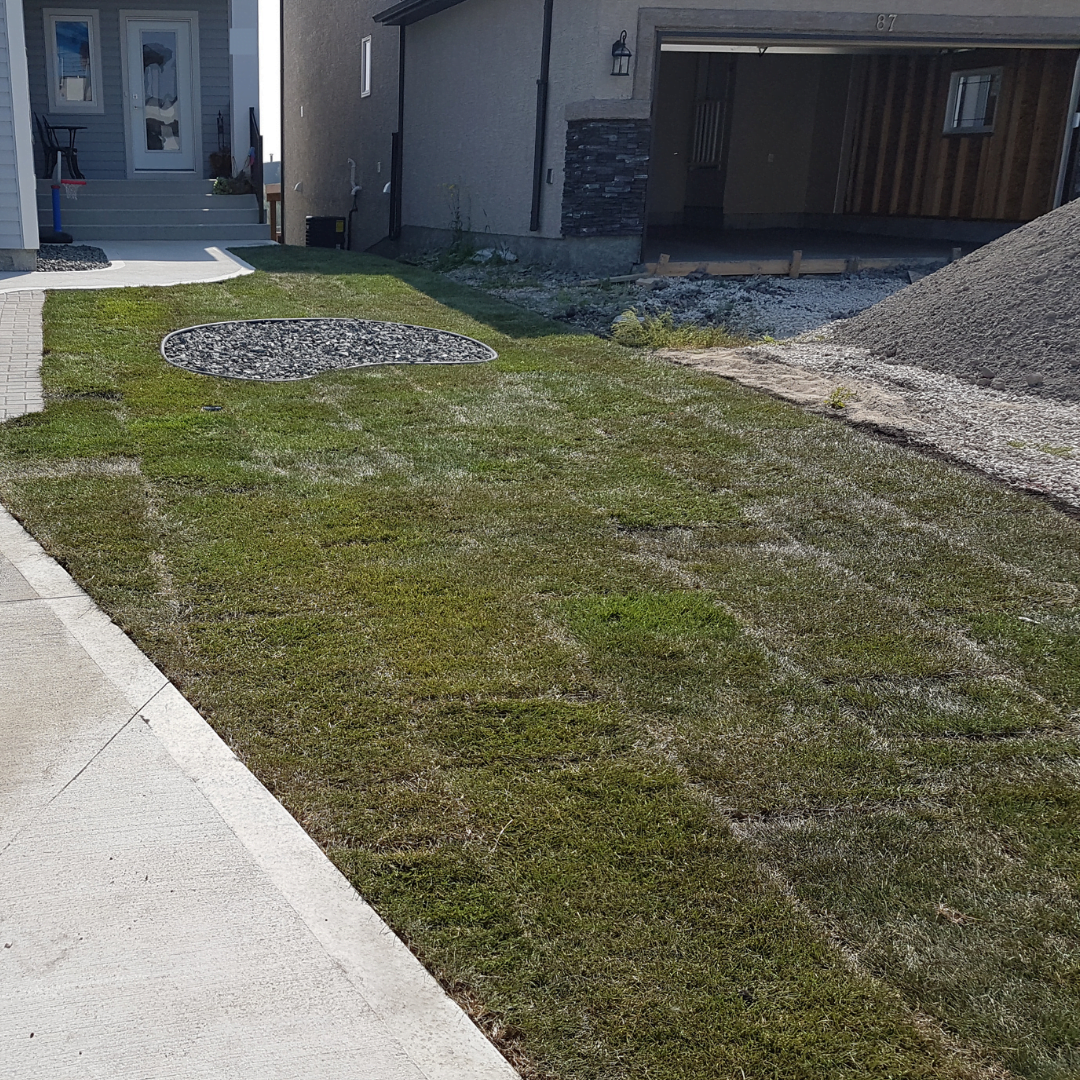 A fresh sod installation upon completion in a new development in Winnipeg.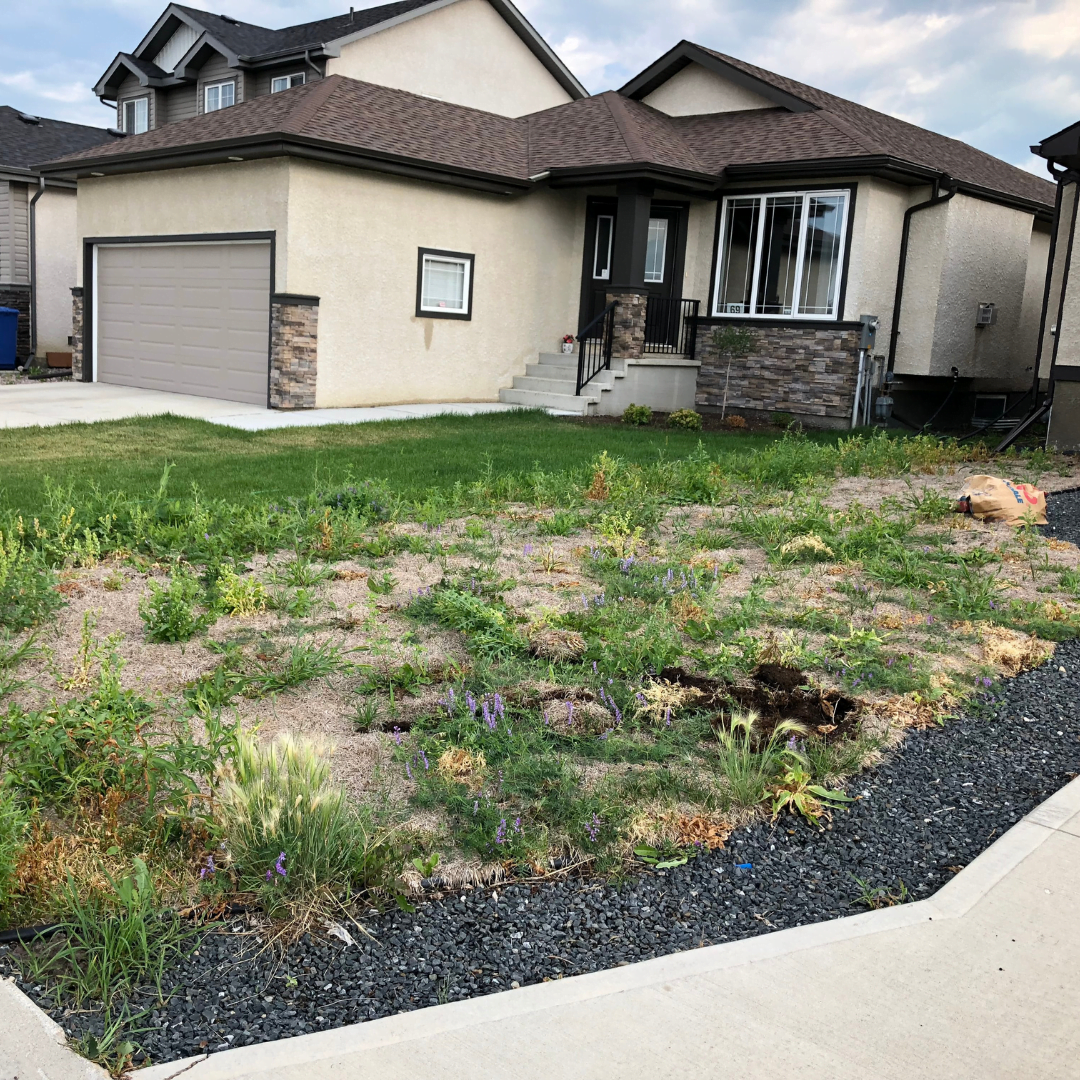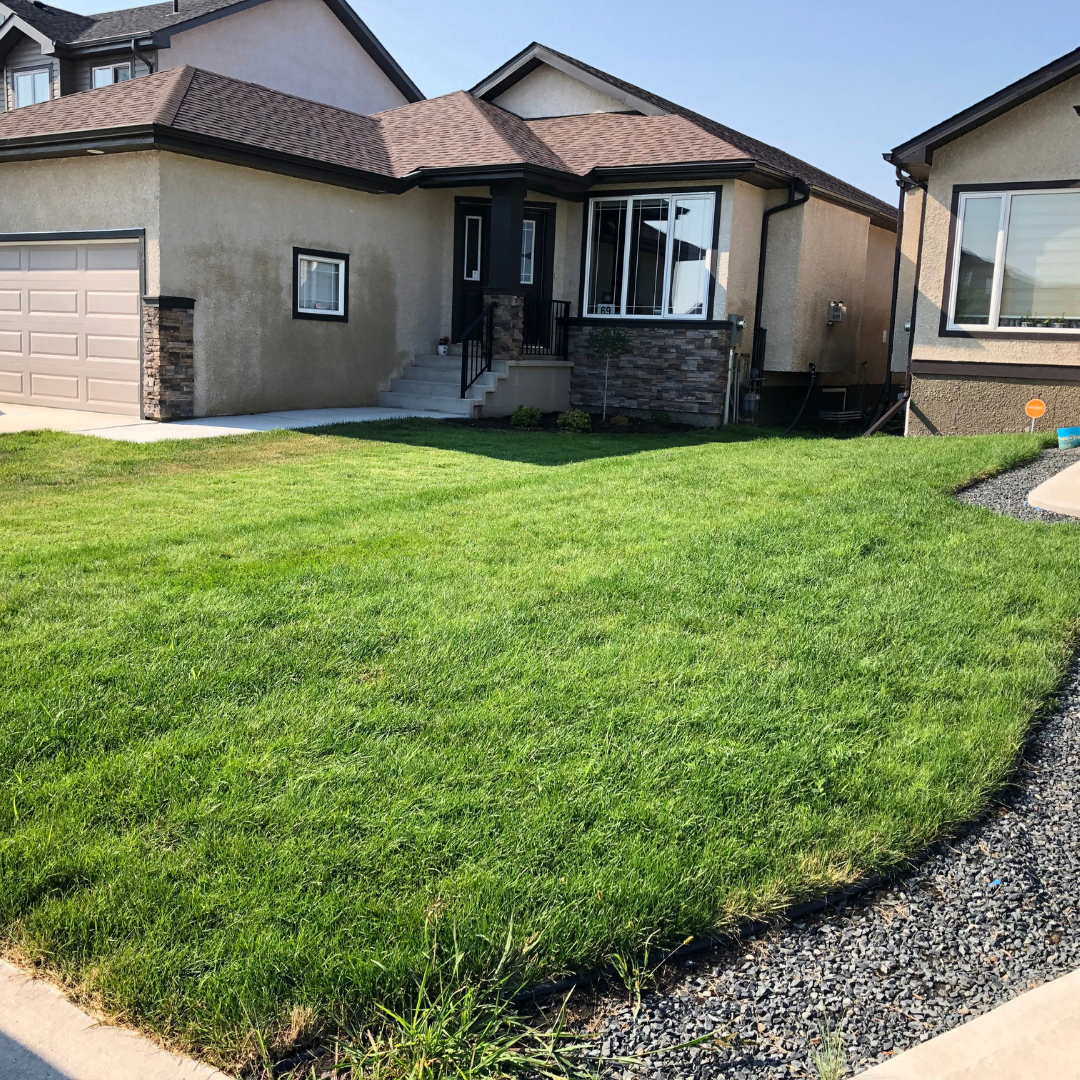 Pictures taken 6 weeks apart. The entire lawn was removed and new sod was laid in only one day.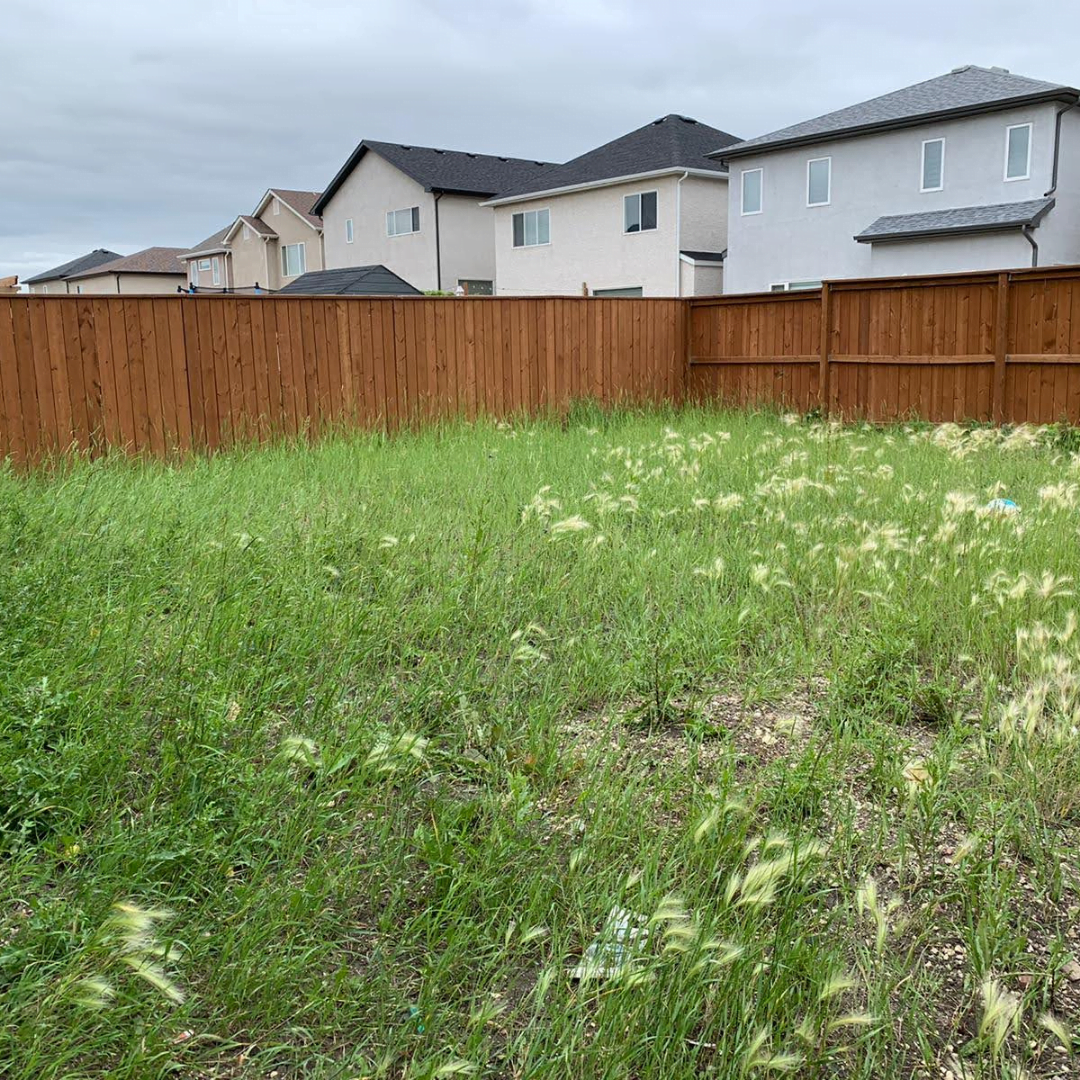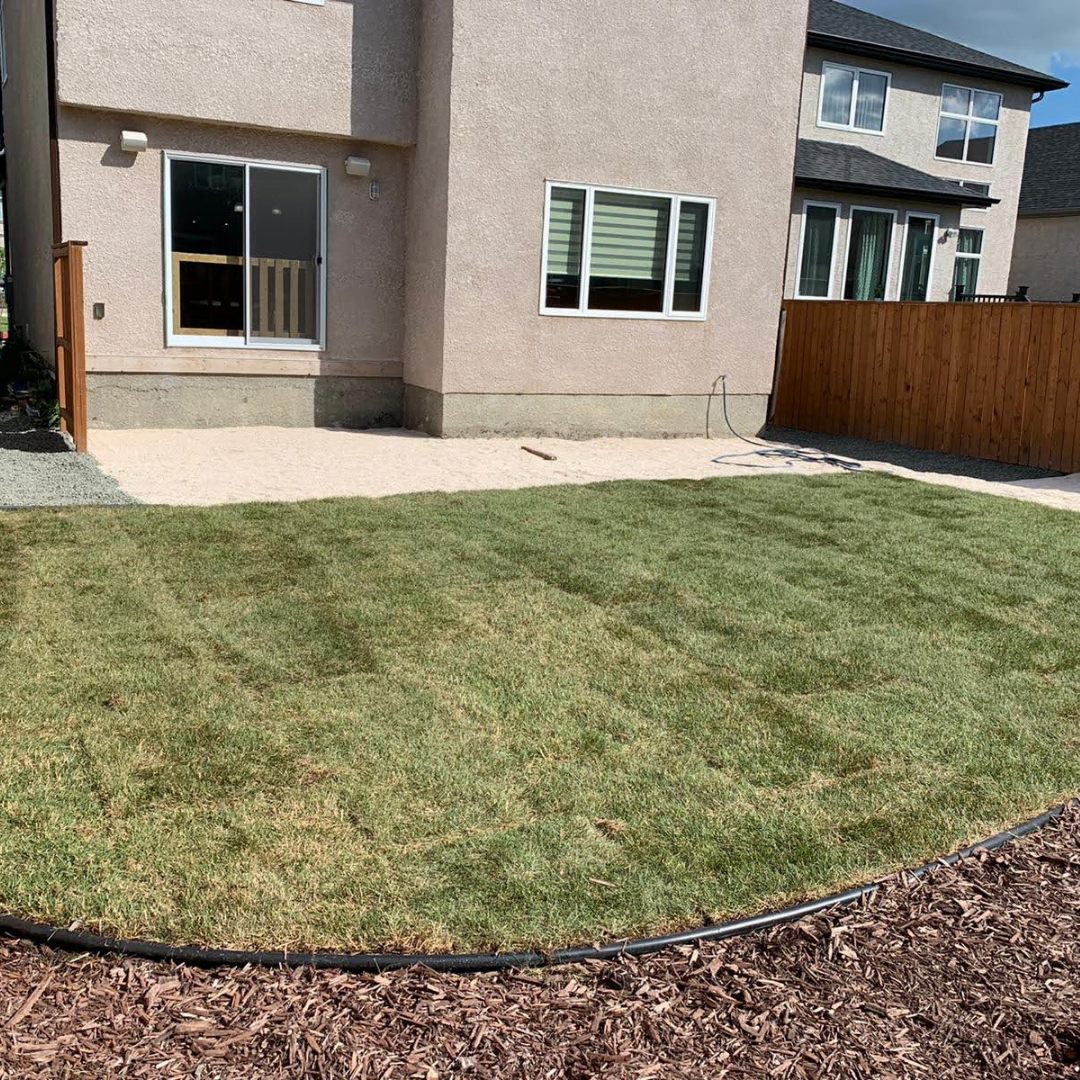 A complete back yard over haul. A mulch bed was installed along with re-sodding the back yard. The quarter down pad was installed, as the customer has plans to build a deck in the future.
Sod Installation Before and After Video
Landscaping Frequently Asked Questions
No. We do not charge for estimates, but please have a good idea of what you would like done or a rough sketch as this helps us to better realize your vision.
Read Our Reviews
What type of residential landscaping do you need done?
Landscaping is a game of yin and yang, of balancing natural elements with manmade, stone hewed, permanent elements. That means landscaping can be divided into two categories: hardscaping (patios, retaining walls) and softscaping (the malleable plant life and rock beds). Even if you've never engaged in a landscaping project yourself, you can identify these elements in your own yard; sidewalks and driveways are hardscape, while your lawn and flower beds are softscape. The way these elements interact creates an important aesthetic for your property: the functional, human-oriented elements and the calming, natural elements.
When your landscaping project is done right, the hard and soft elements will blend to the point of almost being indistinguishable. A pond might be lined with a retaining wall barrier; while the wall is hardscape and the pond and fish are softscape, one couldn't exist without the other. The same can be said of elevated flowerbeds; the container for the soil is hard, the flowers soft, the overall effect, stunning.
---
The creative work that we can do with landscaping is endless. There are two popular landscaping trends we want you to know about right now; ecoscaping and natural landscaping. Ecoscaping has a focus on sustainability; a variety of techniques are used to limit how much water must be used to tend to the property, encourage biodiversity and limit harms to the environment. Natural landscaping is the use of plants and features native to a region to create the yard's aesthetic; here in Winnipeg, that might mean planting tallgrasses and incorporating wild licorace, bergamot and other plants and flowers into flowerbeds or other features.
There are functional reasons to landscape, too. You might want to change the slope of your yard to allow for more natural water drainage, or replace the lawn that you have altogether. Many landscaping companies have minimum prices for the work that they do, and these minimums can cost thousands of dollars. Here at Cleanr Property Maintenance, in Winnpeg MB, we want everyone to have access to the wonderful changes custom landscaping services bring. No job is too big or too small; if you need landscaping service done, give us a call and we'll consult with you to figure out exactly what you need. From shrub trimming to lawn care, our landscaping team have the tools, techniques and professionalism you need. You take pride in your yard, and we take pride in our work; together, we can do wonders.
Request a Free Estimate