Core Aeration vs. Power Raking
Core aeration or power raking? Which is better for your lawn? There's always a debate between lawn care professionals. However, it's not that one is better than the other. Each method has it's specific application, time and place to create a lush, healthy lawn.
Core Aeration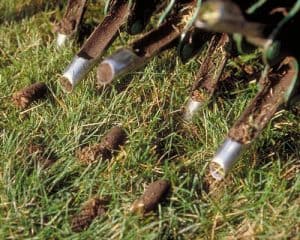 Core aeration or "plugging your lawn" as it's often called, uses a machine that literally pierces your lawn and pulls a plug out of your lawn, leaving the remains on top of your lawn. The benefit of doing core aeration is that it loosens up the soil. You want to use core aeration when you have heavily compacted soil or high-traffic areas in your yard. Think of it as tilling your lawn without killing your lawn. The loosening of the soil allows the roots to expand and allows the soil to breathe more. This permits the grass to grow in thicker and fuller than before.
There's many different kinds of lawn aeration services. But using the kind that physically puts a steel tube into the ground, pulls out a plug, and leaves it behind will be the most beneficial for your lawn's health. Some people like to remove the plugs and others prefer to leave them for the lawn to reuse.
Power Raking
Power raking or "de-thatching" has a similar purpose to core aeration but isn't meant to do the exact same thing. As opposed to focusing on compacted soil, power raking removes the dead material that tends to rest on top of the subsoil. Pulling out this unwanted debris will keep the grass from suffocating and reaching its full potential. Power raking physically rips away that unwanted debris, loosening the soil at the same time, but not to the extent that core aeration does. The dead layer of matter is removed but it's left on top of the lawn, therefore you must collect the remains or else it will settle back in and defeat the purpose of power raking in the first place.
For the 2020 lawn care season, Cleanr Property Maintenance is offering $119 power rakes when you book before April 15th, up to 3,000 square feet of turf. For an additional $69, you can add aeration and have the healthiest lawn in the neighborhood.