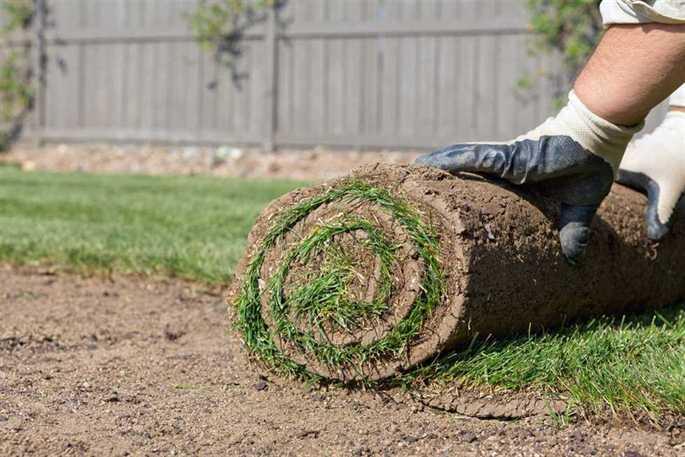 Are you looking for the best and fastest way to give your yard a little sprucing up this spring? Most people already know that the best way to increase your curb appeal is to improve the state of their lawn. Perhaps this is why many people turn to a sod lawn to give them the look and feel that they are after. 
What are the benefits of choosing a sod lawn for your home? Take a look at a few of the ways sod can improve your front yard today! 
Create an Instant Lawn
Are you frustrated by the dry, brown dirt that takes up most of your front lawn? The main benefit and appeal of sodding your lawn is that it creates an instant lawn. There is no need to wait for grass seed to take root and begin to sprout. At the end of a long day of hard work, a lawn covered in sod has a thick, lush, green appearance that cannot be understated. 
Not only is it an instant lawn, visually, but it is also an instant lawn in terms of how quickly you can go about using it. When you plant grass seed, you have to be careful not to trample the young sprigs of grass that pop up through the soil. A sodded lawn allows you to resume heavy activity as soon as two weeks after installation. It gives you both beauty and practicality all in one. 
A Denser Lawn
Planting grass seed might be a less expensive alternative to sodding your yard, but is it really effective? There are usually a few places where the seed doesn't take and the lawn must be reseeded. It can also take two years to grow a proper lawn from seed. A sodded lawn, on the other hand, typically grows in very dense and doesn't have a patchy look. It requires a bit more expensive upfront, but it saves you from having to invest more time in your yard later on down the road. 
Prevent Soil Erosion
Are you tired of tracking dirt and dust from your yard into your home? One of the main advantages to sod is that it helps to prevent soil erosion. The grass associated with sod is already mature which allows it to keep dust, mud, and erosion in check. As a result, you will find that you do not track as much of this debris into your house as you used to.
Less Water Required
New sod does need to be watered a couple of times each day to stay healthy during the first month, but it doesn't require as much as a seeded lawn. You can save some money on your monthly irrigation costs and help out the environment by sodding your lawn instead of spreading grass seed. 
Sign Up for Sod Today
If you are ready to improve the curb appeal of your home, then you need to sign up for the best lawn care services in Winnipeg. Make an appointment with Cleanr Mow to sod your yard today. They can also maintain its beauty all summer long for you!