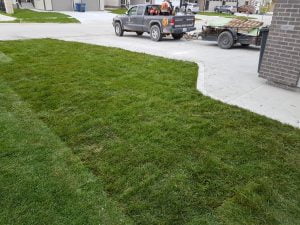 Many homeowners wish that their lawns were clean and healthy, but often, a major thatch problem is detracting from the beauty of their yards. Thatch develops when pieces of grass die and clump together just above the soil.  This can sometimes create problems because it prevents moisture and air from getting to the healthy grass beneath it. This is why you need a plan to remove it. 
While it can certainly be hard work, you can remove lawn thatch on your own at home without calling in the professionals. Here are the steps you'll need to take to help your lawn today:
Mow the Lawn Properly
Before you get ready to dethatch your yard, try to make it a bit easier on yourself. The best thing you can do is remove the top layer of your lawn by mowing it. Make sure to pay careful attention to the settings on your mower – you will want to set it to half of its normal height. This should help get you started off on the right foot. 
Mark Important Areas
It's always important to make sure that you do not damage integral parts of your yard like buried lines, irrigation systems, or sprinkler heads. Flag them or mark them with fluorescent paint so that you do not accidentally run into them when dethatching. 
Rent a Dethatcher or Purchase a Rake
You will need the proper equipment if you plan to remove lawn thatch. Many home improvement stores rent out dethatchers; they are also referred to as vertical cutters, verticutters, or power rakes. If you have a rather large yard, then you will probably want the power version of a dethatching rake. However, smaller areas may only require a specialized dethatching rake. 
Get Ready to Dethatch
Using this type of rake is going to be very similar to using a regular rake. The tines dig deeply into the thatch and pull it up, loosening and removing it. You should be able to see the thatch coming loose from the soil as you work. When you are finished, things won't look polished and pristine – you will want to use a regular rake to gather up the thatch which you can add to your compost, or discard. You may need to spread more grass seed on the lawn to repair any patchiness in the yard. 
Prepare for a Full Day of Work
Getting rid of lawn thatch isn't necessarily difficult, but it is rather labour intensive. Even if you rent a vertical cutter, you should plan on spending a full afternoon in your yard tending to the thatch. When you're finished, you will have a fuller and more beautiful yard that can truly thrive. If you don't want to remove lawn thatch by yourself, consider hiring professionals. At Cleanr Property Maintenance in Winnipeg, we can help with all your Winnipeg lawn care needs!