When Is The Best Time To Get My Lawn Aerated?
Lawn aeration or deep core aeration is the act of removing plugs of soil from your lawn, approximately 3/4" wide and 3" deep. These plugs are then deposited on top of your lawn where they are left to decompose from watering or rain fall. The benefits of aeration are countless, but the main benefit is that it helps to quell an abundance of thatch on your lawn, which can lead to brown spots and lack of growth if not treated. Lawn aeration also allows water, nutrients, and air to reach deeper into your lawn's root system to help promote healthy and stable growth. If you have ever been undecided between power raking your lawn and aerating it, check out The Dethatching Myth Defunked.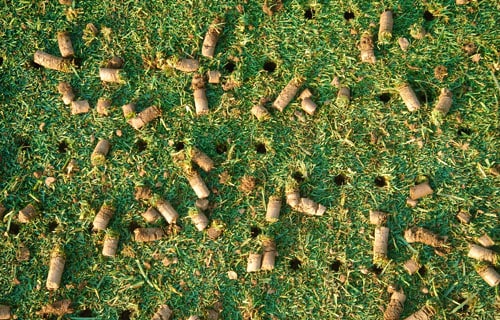 Lawn Aerating
The optimal time to aerate your lawn is when the lawn has just begun leave the dormant state and will be able to heal and fill in the gaps left from the removal of the plugs. A good time frame is anywhere between the beginning of April and the beginning of May in Winnipeg. This allows time for the lawn to heal and gain all of the nutrients from the decomposing plugs before the lawn goes into full growth mode for the summer months. It is also recommended to aerate your lawn near the end of the season before it goes totally dormant. This allows extra nutrients to enter your lawn and help it survive during its hibernation through the winter months. A good time frame for this aeration is mid-September to mid-October. You don't want to wait until a week before the snow falls though, so make sure to keep an eye on the weather!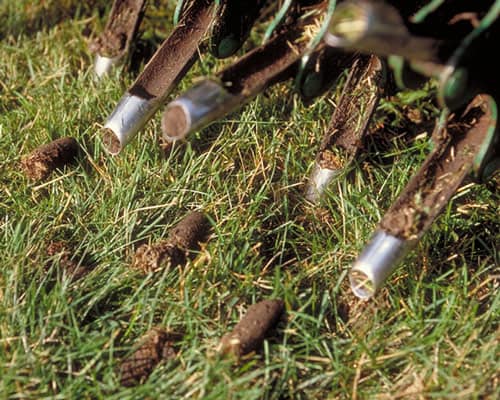 A good Winnipeg lawn care provider will recommend aeration for your lawn on a twice a year regimen. Once during your spring clean up and once during your fall clean up. This aeration schedule allows for optimal growth and nutrients to reach the root system of your lawn. Aeration at least once a year will help to keep your lawn looking lush, green, and full year round. To book your lawn aeration or a full spring clean up, call us today – (204) 960-0246!
JOIN OUR MAILING LIST FOR EXCLUSIVE DISCOUNTS!
[yikes-mailchimp form="1″]