How Often Should I Power Rake My Lawn?
The common answer to how often you should power rake your lawn seems to be once a year. Generally after the last of the snow melts away, the lawn has dried up, and when Spring is in full bloom.
Power raking is the act of taking a gas powered dethatcher (or power rake) which uses metal tines to tear the top layer of thatch off of your lawn. In Winnipeg, many homeowners request power raking at the start of the Spring season because it removes the dead grass that has formed over the winter and generally fluffs up your lawn making it look green before it even starts growing for the season.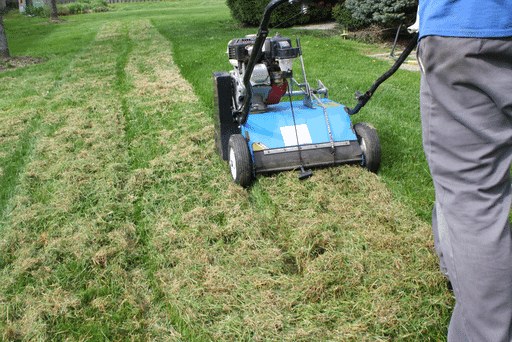 On average, a healthy lawn should be power raked annually in Winnipeg for optimal growth and lawn health. Alongside an annual lawn aeration and a fertilization plan, power raking should be an annual occurrence and aids in the overall health of your lawn. At Cleanr Property Maintenance we offer power raking as an option during the Spring season as many Winnipeg homeowners love it for the instant beautification of their lawn. If a lawn does not need a full fledged power rake, we highly recommend a lawn aeration as a part of your spring plan, as it helps to allow nutrients, air, and water to reach the roots of the lawn.
For the 2020 lawn care season, Cleanr Property Maintenance will be offering $119 power rakes when you book before April 15th, up to 3,000 square feet of turf. For an additional $69, you can add aeration and have the healthiest lawn in the neighbourhood.
Click Here To Learn More!