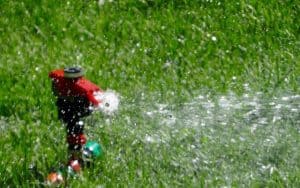 A common question we receive at Cleanr Mow is, "How often should I water my lawn?" The answer is fairly straightforward and we have seen great results using the watering methods that we recommend. Generally, a good rule of thumb for Winnipeg lawn care is water for 10-15 minutes, every three days or so.
During the hot and dry summer months, lack of water can cause the lawn to dry out and turn brown. This can be combatted in two ways:
A consistent watering schedule
Raising the deck height when mowing the lawn
By raising the deck height of the lawn mower, it allows the grass to grow longer and grow even longer roots. This helps it to retain moisture during hot and sunny days. Of course, a consistent watering program is much better for the lawn than raising the deck height of the lawn mower as it gives the lawn a consistent growth source.
Be Sure Not to Overwater Your Lawn
Overwatering can be equally as bad for the lawn as under-watering. When you overwater the lawn, it can cause growth in excess of 6" per week! This means that when we come to mow we are mowing 2/3 of the grass off when the maximum amount should be 1/3 of the blade. This causes undue stress on the lawn and can be damaging to the lawn. Consistently water around 10-15 minutes. Watering every three days or so is a great way to keep the lawn growing at a consistent rate, keeping it healthy and strong.
How to Water Your Winnipeg Lawn
There are three common ways to water the lawn here in Winnipeg:
1. Underground sprinkler system.
Installing an underground sprinkler system is by far the easiest way to water the lawn once it is installed. It is as simple as turning on the sprinkler from your controller indoors. You can even pre-program it to go on on a consistent schedule, so you can literally set it and forget it.
2. Above ground sprinkler system.
This can either be a hose running from your tap to an individual sprinkler, or you can hide above ground sprinklers around your flower beds. Either way, it is a more involved process than an underground system.
3. Manually watering.
This is by far the most involved and least consistent method of watering the lawn. If you are purchasing a newly built home, it is definitely in your lawns best interest to have an underground sprinkler system installed!
So there's your answer to,"How often should I water my lawn?" from the Winnipeg lawn care professionals. In short, as long as you are consistent in your watering the lawn will see the best results. Make sure to water when it gets hot and dry and aim for that goal of 10-15 minutes every three days and your lawn should stay healthy and in great shape!